The artery which leads out of Milan along Corso di Porta Romana is very important; it ends, on the outskirts, at the entrance to the Autostrada for Rome, and all of Central and Southern Italy. At the entrance to the highway there is the Metanopoli project, and further still - nearly in the open countryside - the Abbazia di Chiaravalle (pronounce key-ah-rah vahl-la).

This abbey was founded in the 13th century by Cistercian monks, and it has partly maintained the French style it acquired in the early 13th century. The sacristy and cloister are particularly worth visiting.
The abbey's 14th-century frescoes of the Giotto school have been extensively restored. Since March 2010 they can be be visited again - in a much better shape.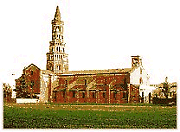 In Milan.
Less than 10 km from the city center.
Take Corso di Porta Romana and Corso di Porta Vigentina, then Via Ripamonti.
The Chiaravalle abbey is reached by the 77 urban bus line.

map