Bramantino a Milano
Castello Sforzesco
Piazza Castello
Castello


Cairoli


tel. [+39] 02 88463700




entrance free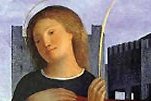 .:.

art

/ tiny renaissance?




may 15 through october 14, 2012




.:.

Tue-Sun 9am-5:30pm
admission till 5pm

The nickname of Bartolomeo Suardi (1465-1530) was Bramantino, almost like a "younger Bramante". Therefore, he might be considered as a painter on a lesser scale than Donato Bramante (1444-1514), the Renaissance artist and architect who built the church of Santa Maria presso San Satiro in Milan, and then moved to Rome to tackle the basilica of St Peter.


.:.

Bramantino, however, was no lesser artist. This is testified by the quality of the paintings and the drawings currently on display at the Castle around the Rocchetta Courtyard, in the Sala del Tesoro and the Sala della Balla.


.:.

The exhibition is tiny, but beautiful and scientifically robust. It's the exact opposite of those big events that gather enjoyable artwork from here and there to make a profit. Here, in fact, entrance is free, courtesy of the City of Milan which shares culture in times of recession.


.:.
.:.
.:.